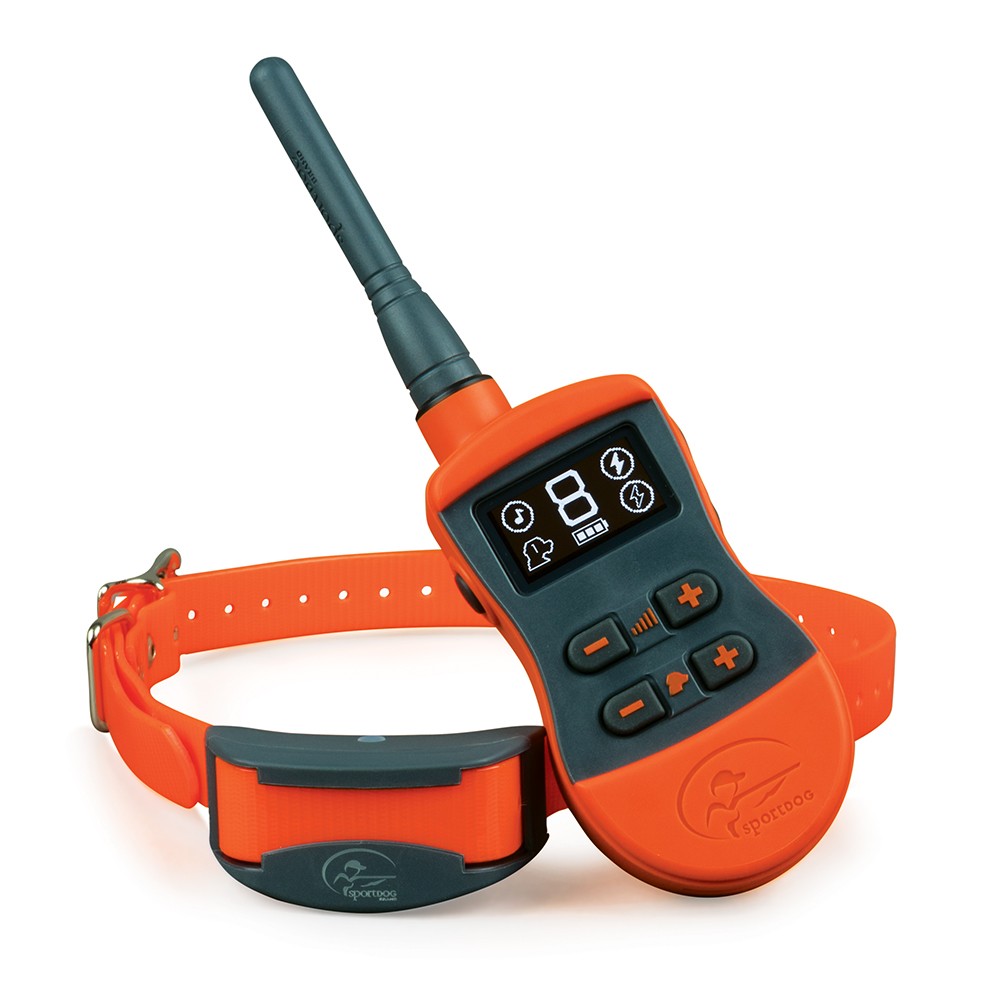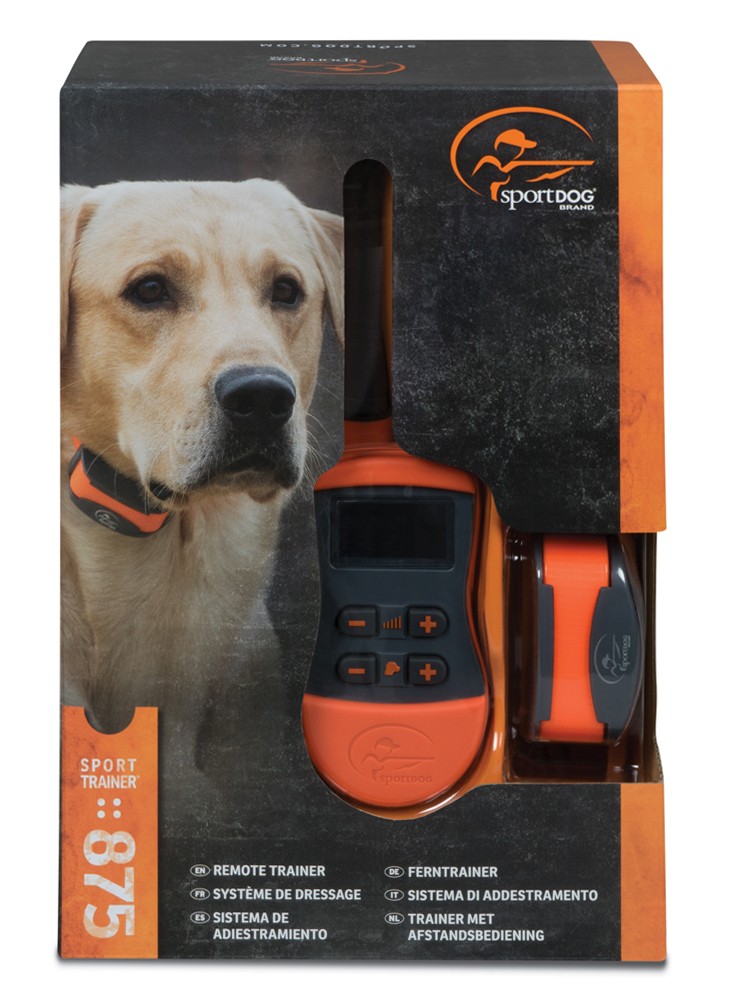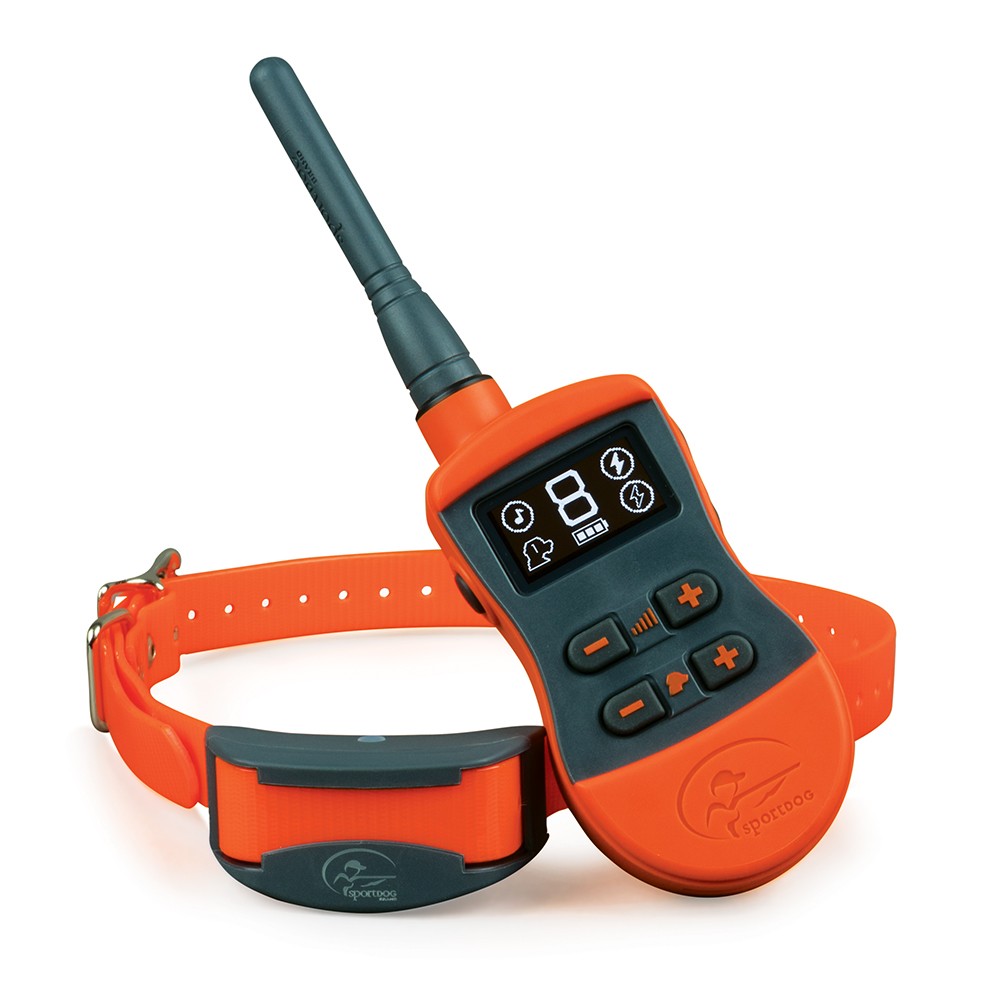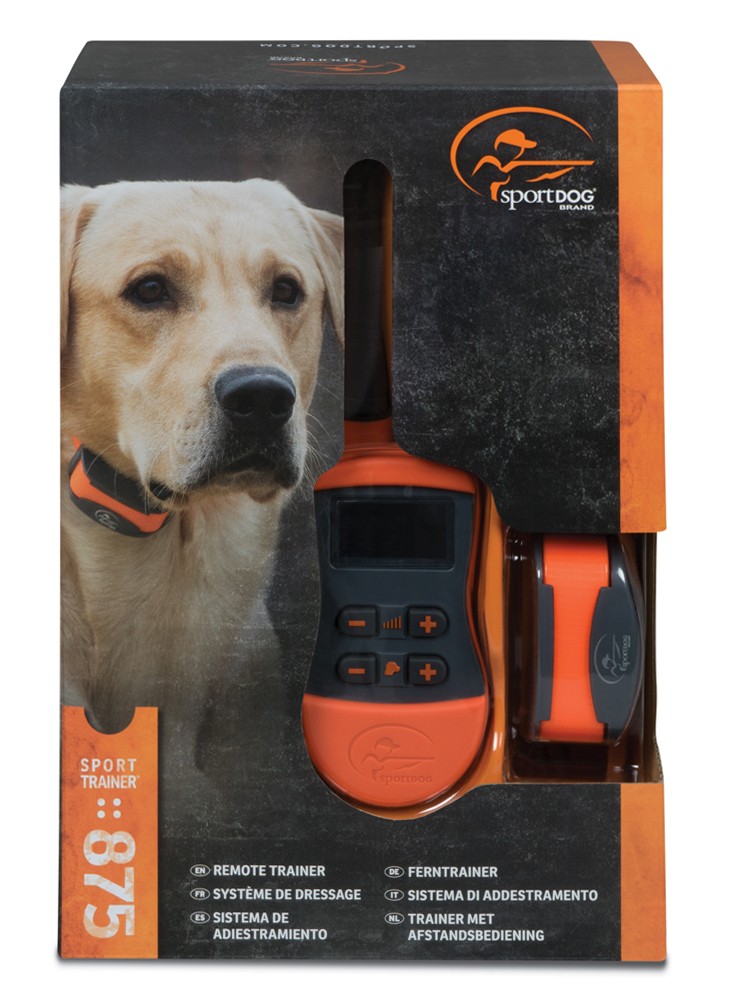 Dog Training Systems
SD-875E
SportDOG SportTrainer SD-875E Collar /800m/
Barcode : 729849160347
---
If you are having trouble with the overall control of your dog and conventional training methods have had limited results or fail when your dog is distracted then you are not alone.
---
---
Suitable for all sizes of dog!
The SportDOG® SportTrainer® SD-875E takes some of the most advanced, industry-leading technology that SportDOG™ Brand has ever built into its e-collars and packaged it up in the most compact system ever offered.
Switch instantly between stimulation, vibration and tone to fit the correction or communication to your dog's temperament and learning ability. 
• Rechargable and Replaceable Li-Ion Transmitter Battery
-  DRYTEK® Waterproof and Submersible
  - Transmitter and Receiver are both waterproof and can be submerged in water to a depth of 25 feet (7.6   meters).
-  Expandable to 3 dogs without loss of vibe/tone feature
-  Range: up to 800 meter in ideal conditions
   Hold the transmitter in a vertical position away from your body and above your head for long distances.
-  Weight: 2.2oz (62g)
-  Intensity Dial: Provides a choice of 10 different levels of stimulation plus vibration.
   This also helps to set the mode for the transmitter.
-  Indicator Light:  Indicates when any button is being pressed. Also serves as a low battery indicator.
-  Antenna:  For maximum range (molded antenna is NOT replaceable)
-  Upper Button:  Factory set to continuous, but can be reprogrammed.
   Continuous stimulation will be given for as long as the stimulation button is held down for up to ten seconds.
-  Lower Button:  Factory set to deliver momentary stim but can be reprogrammed.
   Momentary stimulation will only give stimulation for 1/10ths of a second, regardless of how long the button is pressed.
-  Side Button:  Factory set to tone (no stim) but can be reprogrammed.
-  Mode Button:  Used to change modes
-  Charging Jack:  For connecting the charger Although the transmitter is waterproof without the charger cover, keep the cover in place when not charging to keep debris out of the opening.  
Receiver Features:
-  1.2" (3.0cm) tall x 2.6" (6.6cm) wide x 0.75" (1.9cm) thick
-  Weight:  3.3oz (94g) with collar strap
-  Neck size:  Fits neck sizes approximately 12,7cm to 55,88cm.
-  Hex Screws:  (3/32 or T10)
-  On/Off Button: Turns collar on/off also used to reset the collars
-  Indicator light:  Indicates when the collar has been turned on or off. Also serves as a low battery indicator.
- Continuous Stimulation:  Adjustable using Intensity Knob on the transmitter, 10 levels available.
   Maximum time for stimulation 10 seconds; to reactivate stimulation, release and repress Stimulation Button.
-  Momentary (Nick) Stimulation:  Stim delivered for 1/10 of a second regardless of how long the button is pressed.
- Stimulation Ranges:  Low and medium.
-  Tone:  The Collar Receiver will make a rapid beeping noise when a Tone button is pressed.
-  Vibration: The Collar Receiver will vibrate when a Vibration button is pressed, up to a maximum of 10 seconds.
Accessories:
Expandable to 3 dogs by adding
•

SportDOG SportTrainer Add-A-DOG collar SDR-AFE

 
Antenna:
• SportDOG Replacement Antenna. SAC00-12543
• SportDOG - PetSafe Contact Points /STANDARD/
• SportDOG - PetSafe Contact Points /LONG/
Replacement Strap Collar:
• SportDOG Collar /Black/
•
SportDOG Collar /Orange/
• SportDOG Collar /Green/
• SportDOG Collar /Yellow/
---
---
---
---