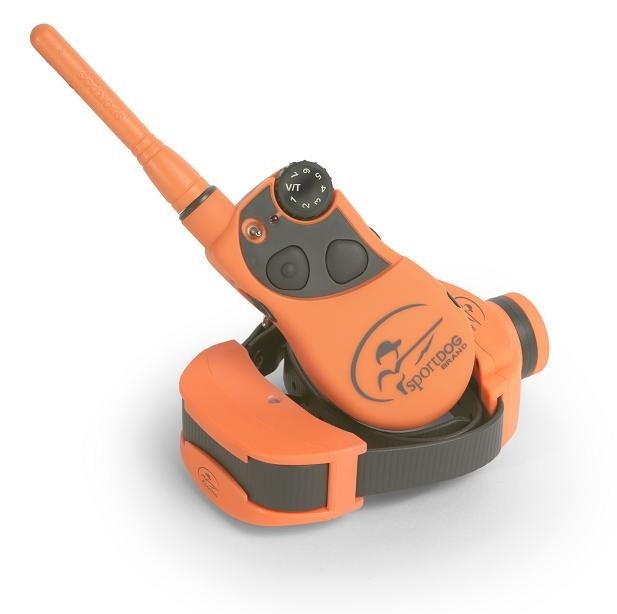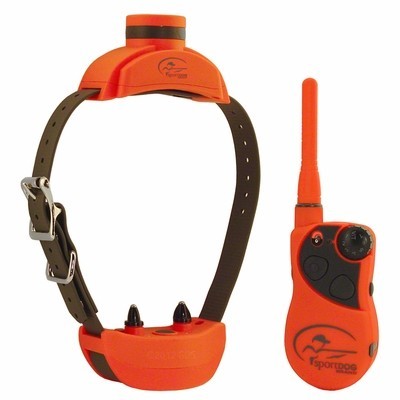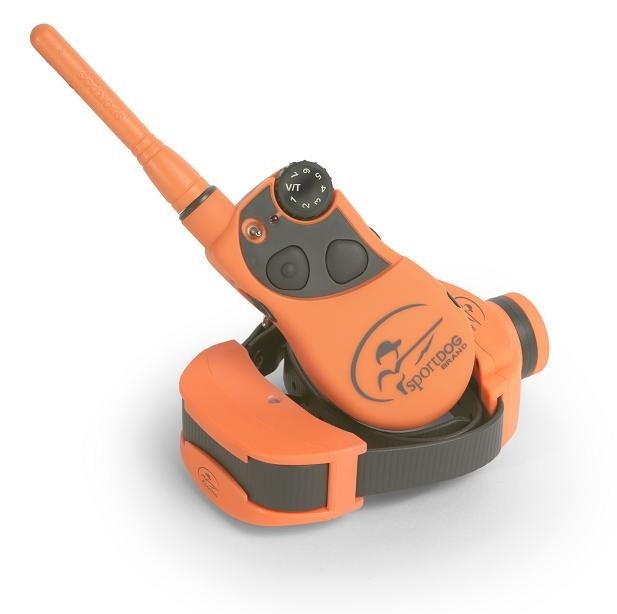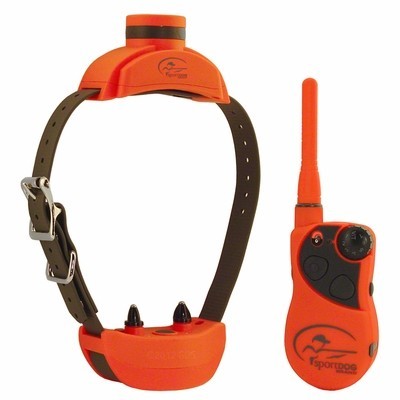 Dog Training Systems
SD-1875E
SportDOG SportTrainer SD-1875E Remote Trainer With Beeper /1600m/
Barcode : 729849137004
---
Read more about SportDOG SD-1875E Upland Hunter!
---
---
Read more about SportDOG SD-1875E Upland Hunter!
The Sport Hunter SD1875E is an incredibly versatile training collar that includes a 

remote

controlled beeper that has a motion sensor that allows you to locate your big 

running bird dog and know if he's moving or on point. 


The Beeper is different from the "tone" concept in most remote training collars.


The beeper is a loud speaker horn that sits on top of the dogs neck.


The sound of the beeper can be heard from a very long distance 
(150 to 400 yards depending on weather and terrain conditions).


Tone is a very quiet sound that can only be heard when you are very close to the 

collar. It is generally used to give your dog warnings or silent commands.
Beeper collars use a motion sensor to tell the hunter what your dog is doing.


The Sport DOG SD-1875 beeper collar can be adjusted from the transmitter 

to

Run / Point Mode

, making one beep every 5 to 10 seconds while your the 

dog is moving and then changing to a beep every second when your dog stops, or to Point Mode Only, which means the collar makes no sound while your dog is moving, but kicks in to "point" mode when your dog stops.
You can customize your SportDOG SD-1875E to match your training preference.


It comes out of the box set up in MODE-1 (a 7-level continuous + 7-level momentary 

stimulation one dog collar with tone on the dial), but it can easily be changed into 12 different modes with different button configurations.


This allows you to customize your transmitter to your training needs.


The wide range of stimulation levels and gradual increases between levels on the 
SD-1875E are particularly useful with sensitive dogs or breeds.
CHANGE TONES
The SportTrainer® SD-1875E has nine tones. The default tone is High Volume Beep.
TONES:
3 High Falling To Low Volume Beep
4 Double High Falling To Low Volume Beep
The SD-1875 features 1 mile of range, a slim profile collar receiver that ensures a 
perfect fit, low profile beeper and a compact transmitter that's easy to handle.
You are also able to transform your one dog system into a two or three dog unit with 

 the "Add-A-Dog" feature. Plus, it's waterproof and submersible!
System Specifications:
Transmitter weight: 0.35 lbs 

Collar weight with Receiver: 0.3 lbs 

Collar length without Receiver: 28" 

Collar length with Receiver: 26"
Range

Up to 1 mile

Add-A-Dog®

Expandable up to 3 dogs

Tone/Vibration Options

Tone and vibration options

Waterproof

DRYTEK™ waterproof and submersible to 25 feet

Battery Charge Time

2 hour quick charge

Beeper Options

High Volume Beep High Volume Hawk Double High Beep Bob White Quail Call High Falling to Low Beep Triple Beep Double High Falling to Low Beep Low Volume Beep Low Volume Hawk

Battery Type

Rechargeable Li-Ion

Key Features

  Beeper

  Audible up to 500 yards

  9 selectable tones

  3 selectable modes: silent, 5 second, 10 second beep

  Instant locate feature with the touch of a transmitter button

  Realhawk™ beeper sound

  Change tones from up to 1 mile

  DRYTEK® waterproof and submersible to 25 feet

  Contoured beeper design

  Placement knob to secure beeper in place

Contents

  Remote Transmitter

  Collar Receiver

  Beeper

  Extra Collar Strap

  Lanyard

  Belt Clip

  Long Contact Points

  Operating Guide

  Basic Training Manual & DVD 

  Charging Cradle

  Beeper Charging Cradle Connector

  Charging Adaptor

  Test Light

Continuous Stimulation

7 levels

Momentary Stimulation

7 levels
Accessories:


Expandable to 3 dogs by adding
•

SportDOG SportTrainer ADD-A-BEEPER Collar. SD-BEEP-E

 
•

SportDOG SD-1875E Add-A-Dog Receiver SDR-ABE
Replacement Strap Collar:
• SportDOG Collar /Black/
•
SportDOG Collar /Orange/
• SportDOG Collar /Green/
• SportDOG Collar /Yellow/
---